Allowing potential clients to contact you through Locate Your Lawyer is an easy way to grow your business.
What can potential clients share via the contact request form?
Potential clients can enter their contact information, a short description of their legal issue, and the identity of the parties involved. The description field has a limited character length to prevent the potential client from sharing too much personal information and to protect you from any conflicts of interest prior to formally entering into an attorney-client relationship.
What information do I receive when I receive a potential client contact request?
When a potential client establishes contact, you receive an email with their contact information, issue, and opposing party.
How to enable/disable the potential client contact request feature.
If you don't remember what options you chose or if you would like to change them, follow these steps:
Sign in using your state bar credentials.
Select the next to About My Practice
Select yes/no on allowing potential clients to contact me and then select OK.
How to manage a contact request and discontinue reminder emails.
Sign in using your state bar credentials.
Select Contact Request From the left menu.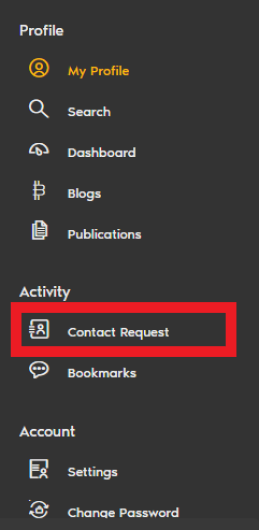 3. On your contact screen you can sort your contacts by status and click on the contact to access additional options.
4. Once you have selected a contact request, you will see the options Accept or Decline and Show Contact Information. Choose accept or decline to discontinue reminder emails and keep your contact record up to date. Select show contact information to view the contact information and contact preference added by the requestor.