Potential clients are searching the internet for a lawyer right now.
Who they contact and ultimately hire depends a great deal on what they can learn about the lawyer online. The vast majority want to know about a lawyer's experience, their credentials, and the types of cases they handle. They also want a clear understanding of the legal process and the approximate cost of their case.
Tell them what they want to know through your profile in Attorney Search.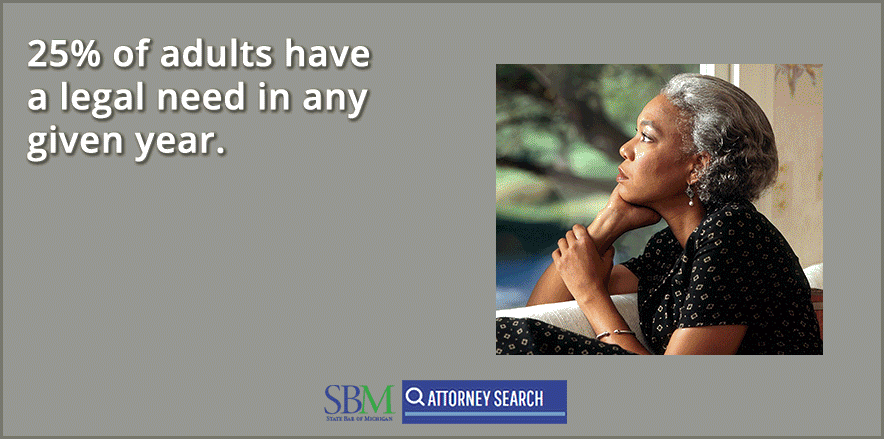 Attorney Search is an exciting member benefit from the State Bar of Michigan that makes it easier than ever to tell potential clients why you are the best fit for their legal needs.
With a streamlined user interface, ease of access right from your member page, and a simple setup, Attorney Search makes it easier than ever to GET FOUND and GET HIRED!
Sign in
Sign in to Attorney Search by clicking here.
The site's Terms of Use displays the first time you access Attorney Search. After reading and accepting the Terms of Use and specifying basic default values, you will be directed to the site.
Add and edit profile information
Edit information in your Attorney Search profile by clicking the edit icon
next to the appropriate section.
Note: Some information (e.g., name, email, etc.) must be edited from your State Bar of Michigan member profile. If you attempt to edit this data, you receive the following message and will be redirected back to your bar profile to make the desired changes.
Go to the State Bar of Michigan Member Area to edit your profile by clicking here.
Once you edit and save the information on your state bar website, it will automatically update your Attorney Search profile (changes may take a few minutes to appear).
Show or hide email and/or address
Members may choose to show or hide their email and/or mailing address in their profile's public view. To change the view setting for phone or email, click the edit icon
next to the appropriate element.
Click the box next to Hide Email and/or Hide Phone to hide the information from public view. Click OK to save your changes.
Things your profile should contain
Photos - Prospective clients like to see the person with whom they will be working. Add pictures of your office, pictures of you at meetings, involved in hobbies, or taking part in charitable activities.

Click "+ Upload" in the right corner to add one or more photos to your profile. Once uploaded, click on the photo to make it a profile photo or to remove the photo.
Practice areas- Coupled with location, practice area is the most used search parameter.

Include all of your practice areas

to ensure the right clients find you. The average member lists 10, so don't be shy!
Biography - Your biography (Profile Plus feature) takes center stage when it comes to telling potential clients who you are. Tell them what makes you unique and what makes you the best choice to handle their legal needs.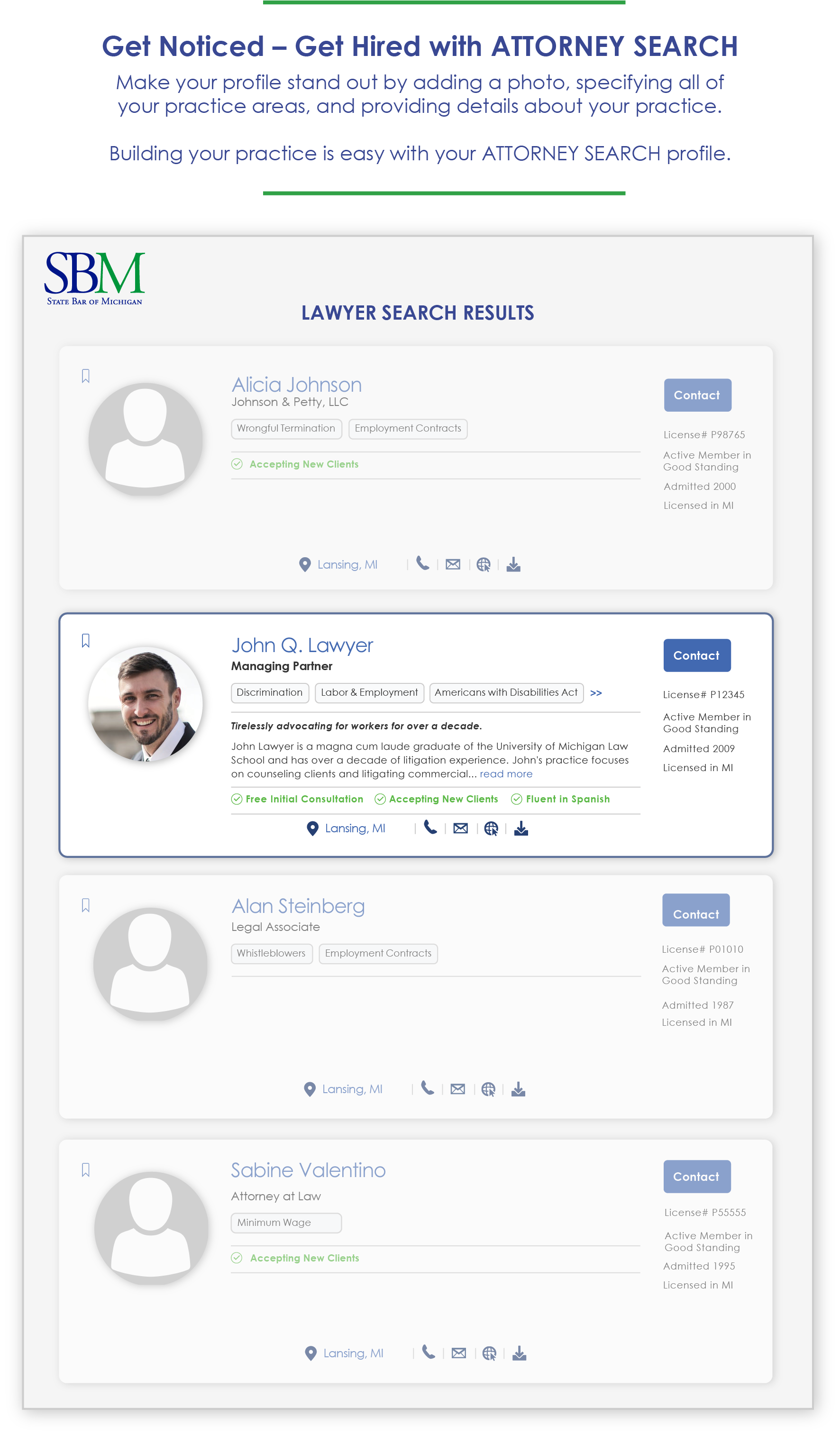 Show that you are interested in new client engagements
If you are accepting new clients, make sure it is indicated in your profile. While you are at it, make it easy for potential clients to connect with you by enabling the CONTACT option.
When a potential client clicks the CONTACT button in your Attorney Search profile, they will be prompted to provide their contact information and summary information about their legal issue. Once submitted, you receive an email with ALL the contact request details. No sign in is required.
Contact requests are stored in the Contact Request section of your Attorney Search profile for later reference.
To enable these features, click the Edit button in the ABOUT MY PRACTICE section of your profile.
Accessing other options
Your dashboard, blogs, publications, contact requests, and other profile options are available from the side menu.
Viewing the public-facing directory
To access the public facing directory, click the magnifying class in the left menu and search by your name.
To return to editing your profile, click My Account in the upper right corner.
Helpful Resources